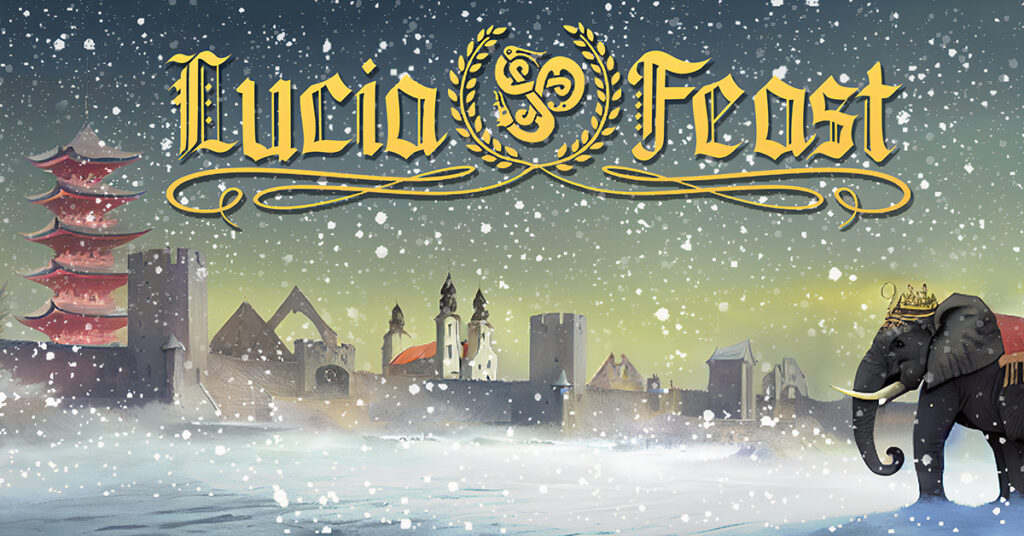 Styringheims Lucia Feast –
An investiture with a taste of the orient and a tribute to Abul Abbas! Welcome all and everyone to a fantastic celebration filled with the mysteries of the orient. For two days we celebrate our beloved Styringheim and it's crowned heads. Come and wish Ale and Wendela all luck and prosperity on their coming journey and watch Styringheim being led towards new times. Come and revel in olives, dates and tastes you have never experienced before, let delicious wine flow from the fountains and let yourself be inspired by Abul Abbas's wisdom and courage.
Friends!
It's time
For Styringheim!
For Celebration!
For Lucia!
350 SEK for SCA members
400 SEK for non-members.
Children 0-16 years old free of charge.
Contact the autocrats: lisanorling@live.se
Registered Participants
| | | |
| --- | --- | --- |
| SCA title | SCA name | SCA group |
| Fru | Una Bjornsdottir | Gyllengran |
| Duke | Sven Gunnarsson | Löghammar |
| Duchess | Siobhan Inghean Ui Liatháin | Löghammar |
| | John | Aros |
| Lady | Marit Matsdotter | Aros |
| Baroness | Aleydis van Vilvoorde | Gotvik |
| The Honourable lady | Marlein Eberlin | Aros |
| Lord | Styrbjörn Bärsärk | Holmrike |
| Fru | Arnora in stranga | Holmrike |
| | Morten kanik | Styringheim |
| Fru | Görvel | Styringheim |
| THL | Estridh (Branna från Korpåsen) | Nordmark |
| | Åsa vävare | Styringheim |
| Herr | Fledar Skote | Stryingheim |
| Duchessa | Isabetta del Verde | Holmrike |
| Storstyring | Skafte | Styringheim |
| Duke | William of Richwood | Holmrike |
| | Basse | |
| Mistress | Unna Gunnarsdotter | Styringheim |
| Storstyra | Alma | Styringheim |
| Crown prince | Krake | Drachenwald |
| Mistress | Tova | Attemark |
| Duchess | Vanna | Ulvberget |
| Lady | Sabine Solling | Styringheim |
| Baron | Jorulf från Valle | Styringheim |
| Baronessa | Ejsarves Märta | Styringheim |
| | Svante från Valde | Styringheim |
| | Greta från Valde | Styringheim |
| Herr | Ganglere | Styringheim |
| | Halvdan | Styringheim |
| Fru | Lunetta Scharnweber | Styringheim |
| | Stella Mikaelsdotter | Nordmark |
| | Estrid | Styringheim |
| Lord | Balthazar Rebil Weiss | Styringheim |
| | Cecilia Memling | Styringheim |
| Sir | Atli | Danmark |
| | Liva torbjörnsdotter | Styringheim |
| Viscount | Roland Santiago | Holmrike |
| Mistress | Anna Laresdotter | Nordmark |
| | Luís | Holmrike |
| Lord | Erasmus | Nordmark |
| | Elisabeth | Nordmark |
| King | Avery Westfall | Thamesreach |
| | Danel Udalschou | Styringheim |
| Vicomtessa | Ermingard Hawenthorn | Styringheim |
| Fru | Etla fra Aos | Styringheim |
| | Robin of Isle | Styringheim |
| Viscountess | Eira av Attemark | Attemark |
| Baronessa av Gotvik | Astridh Thorkilsdotter | Gotvik |
| Countess | Eila de Valois | STYRINGHEIM |
| | Louise LeRoux | Styringheim |
| Viscount | Rok Tingfaste | Styringheim |
| Viscountess | Wilda Frejasdottir | Styringheim |
| Lady | Grima in Rauda | Styringheim |
| | Reidun Torvi Grævling | |
| THL | Gele Pechplumin | Nordmark |
| Herr | Geiri í Hrauni | Styringheim |
| Herr | Rasmus | |
| | Ylva | |
| Baronessa | Wendela af Ekese | Styringheim |
| Baron | Ale Snepil | Styringheim |
| Duke | Morales Galen | Styringheim |
| | Leo LaFuze | Styringheim |
| | Eadric de Kain | SKA Aros |
| Lord | Maximiliaen Alexandre De Wildt | Styringheim |
| | Sofia Saphientia | Löghammar/Aros |
| sikkīr | Joh´n mae Al Nabidh | Abbasidkalifatet |
| Viecountess | Elise M'Gillione | Styringheim |
| | Gwehenna | Styringheim |
| Herr | Bödvar brok-brännare | |
| | Matteus elg | |
| | Ante Halfwardsson | Styringheim |
| Fru | Cicele | Styringheim |
| | | |